Oh, it's just the sound of me, blowing my own horn.
My mum said it was too hard to find testimonials at the bottom of my main page so I gave them their own page. I hope my mum likes it! 
Sometimes you might not be willing to take my own word for it when I say that I'm a real treat, so here are some exceptionally nice words from couples I've married, each of them an absolute gem. I've elected not to publish all the absolute trash people have talked about me (SIKE! Doesn't exist!). Read on to enjoy some of the nicest things that have ever been said about me! You'd best believe I like to come here just to enjoy them myself from time to time, especially when I'm feeling lonely.
Honestly, I could talk for ages about how much we love Memily. Our wedding day wouldn't have been the same without her. Memily made our ceremony all about us, weaving in little stories we told her (she gives you a lil quiz when you book her so she can get to know you) and just being completely hilarious. All our guests said she was incredible and that she was like a guest we invited. I cannot stress how fantastic Memily is, I wish we could do it all again just so we could work with her again.
Erica + Ben, April 2022
As soon as I came across her on instagram I knew I didnt want any other celebrant, her vibes were immaculate! After a wild weather swing, the cosy indoor ceremony was made so special by her attention to detail with every personal touch she put into her words. I am so grateful and blessed to have found her and so thankful for every contact we had with her in the lead up and on the day. Almost every single one of our 120+ guests complimented our choice is having her involved in our celebration and how personal and fun our ceremony was. We love you so much Mem, thanks for sharing your light with us ❤❤❤
Emma + Sam, November 2022
Ohhh! seriously how to review someone with JUST WORDS when they have literally contributed and is the very reason for one of the most spectacular moments of my life?!
It was serendipitous that I came across Memily and her celebrant service and the stars just aligned so beautifully.
I gave Memily a simple idea – elopement + dark mofo (and ps. We are all traveling from cities NOT in Hobart) and she ran with it in the most professional, friendly and perfectly US in every way – it was EVERYTHING and so much more.
I cannot recommend Memily any higher and know that I have made a genuine friend for life (seriously how many people say that about their celebrants?!) – a testament to how wonderful she is.
Thank you so much 😘😘
Bec + Ash, June 2021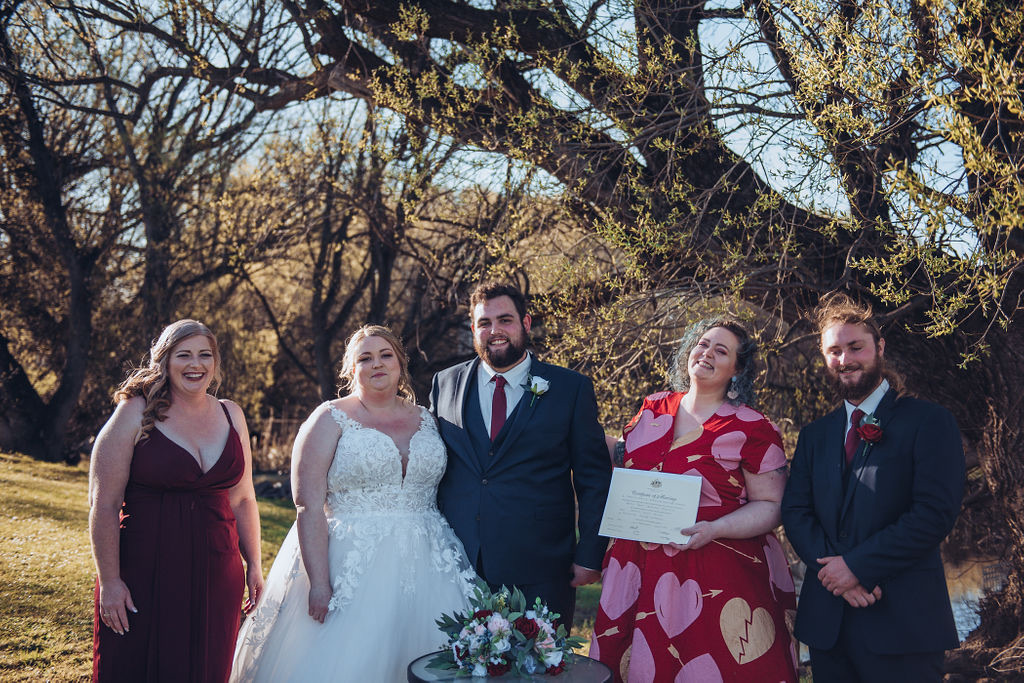 Mem married us on our 20th anniversary because 20 years ago it wasn't legal for two women to marry each other. But finally Australia came to it's senses. So we gathered with our close friends, kids and our fancy sister and Mem made our long time commitment to each other legal. We want to thank her so much for her support and understanding… not to mention the special skills required to muster our friends and family… some of them are hard to manage but she did it with ease and a smile on her face. Mem is genuine, warm and she cares but most important of all she listens and she got us! Thanks Mem xx
Stef + Pen, January 2020
Mem, we have to say the love story you wrote for us was perfect and beautiful! Your words were insightful, thoughtful and humorous in all the right moments.
We also appreciate that you drove the 300km round trip to marry us at our favourite remote location at the very centre of Tasmania.
We are so glad our friend recommended you for our special day, we could not imagine a better person to help us to finally tie the knot.
Mem you are a wonderful celebrant and we will be recommending you to anyone we know who is planning to get hitched.
Thank you for making our day MEMorable!
Anni May + Paul, March 2021
Erin and I wanted a ceremony that reflected us, that was small (hey, Pandemic), and was stress-free. Mem delivered on each and every front, even going well out of her way to help Erin prepare for the ceremony.
The script for the ceremony was hilarious, cheeky, but walked the line of still being parent appropriate and something our very small wedding party will always remember.
Her delivery absolutely nailed it as well, dropping in Erin's and my little in-jokes at moments that made us laugh, made us feel like we'd really been heard, and that our relationship in all its quirks was respected.
I don't often take the time to recommend or review businesses or services, but when they do incredible work I go out of my way. Mem deserves that, and I guarantee that if you decide to get married, Mem will take care of you, cherish your relationship, and create a ceremony that you'll never forget.
Erin + Ross, February 2021
Mem is amazing. She knew how to give us the ceremony we wanted, even if we weren't 100% sure what we wanted ourselves! The ceremony was, as requested, simple A F. It was the perfect start to a day was that was (like the ceremony) fun-filled and full of laughter.
Kate + Michael, February 2022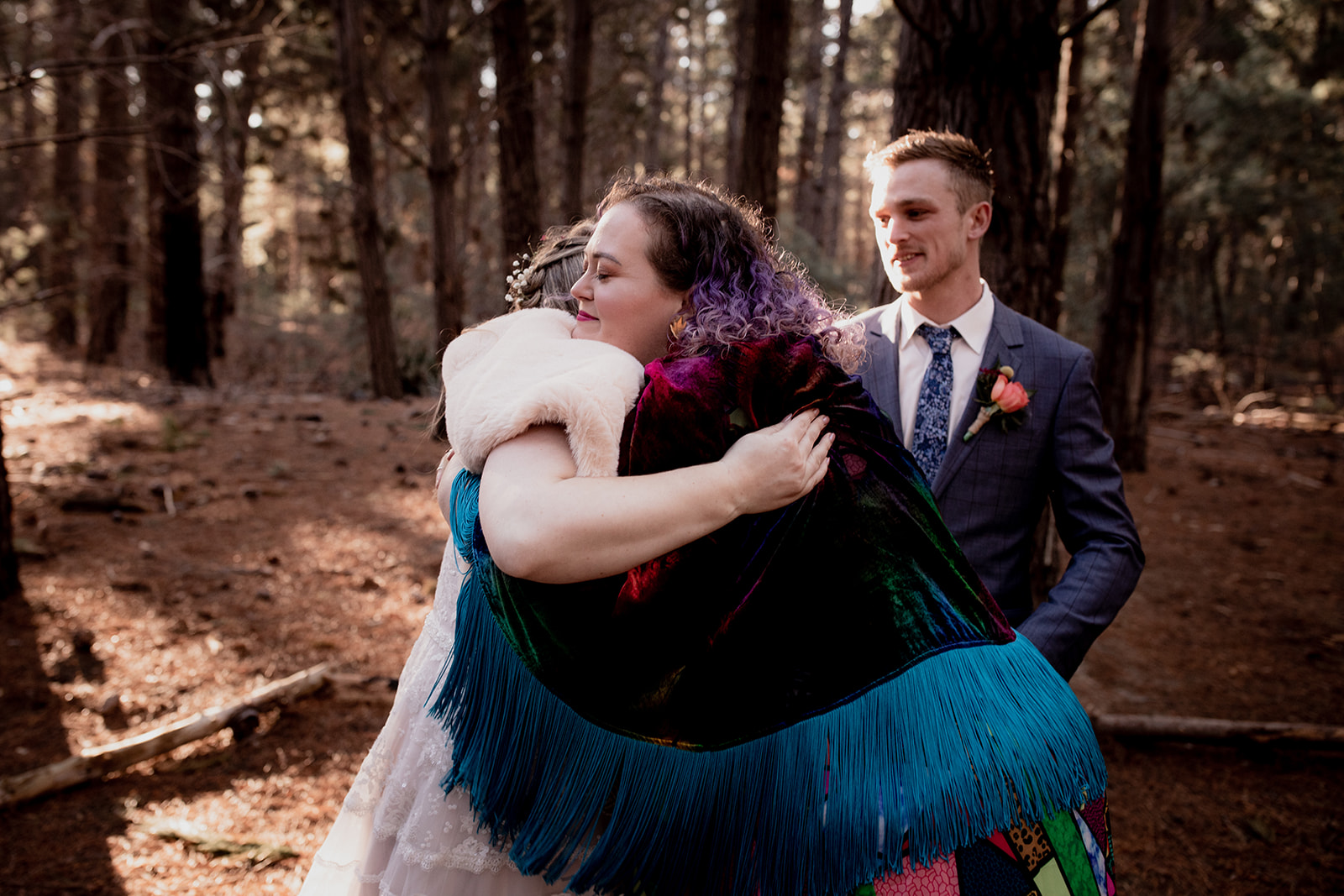 Mem's review has sat on my to do list for over six months while I tried to find the words to express how grateful we are for how good she was, not only on the day but in the lead up to our wedding.
Before the day she was super easy to talk to and deal with, gave useful feedback and ideas and didn't mind if you decided against a suggestion despite specifically asking for suggestions.
On the day she was somehow even better! Helping to boost what was always going to be a special day to the next level. She tapped into things mentioned in passing as we got to know her and worked them seamlessly into her bit making it feel like we had a friend of years marrying us rather than someone we'd only met a few months earlier.
I can't thank Mem enough for everything and now that my day is over I hope I get to attend a wedding she officiates so I can experience the magic from the crowd as well as under the Arbor.
Thanks again for everything!
Dylan + Hilary, April 2021
Mem was everything you could need in a celebrant plus so much more! Our guests loved her quirky and bubbly personality and she made us all giggle as she told our love story perfectly. As the bride I was naturally a bit nervous approaching the ceremony but Mem was calming and reassuring. She handled the music and the guests which only left me with the task of not tripping over down the isle. I highly recommend Memily if you're looking for someone outgoing and fun to handle your ceremony, she made our day truly special!
Jaz + Alex, September 2020
Mem was absolutely delightful and loads of fun. My husband and I live in Sydney but chose to elope to Tasmania and were recommended to get in touch with Mem. From the moment we met we were at ease with Mem's easy going and professional nature. She is an excellent communicator and was great at keeping us calm and prompting us when needed. Nothing was a hassle and everything was organised so easily and timely. It was so nice to find someone fun and personalise the ceremony so it didn't feel like a script. Highly recommended and thanks so much Mem!
Jas + Dirk, November 2019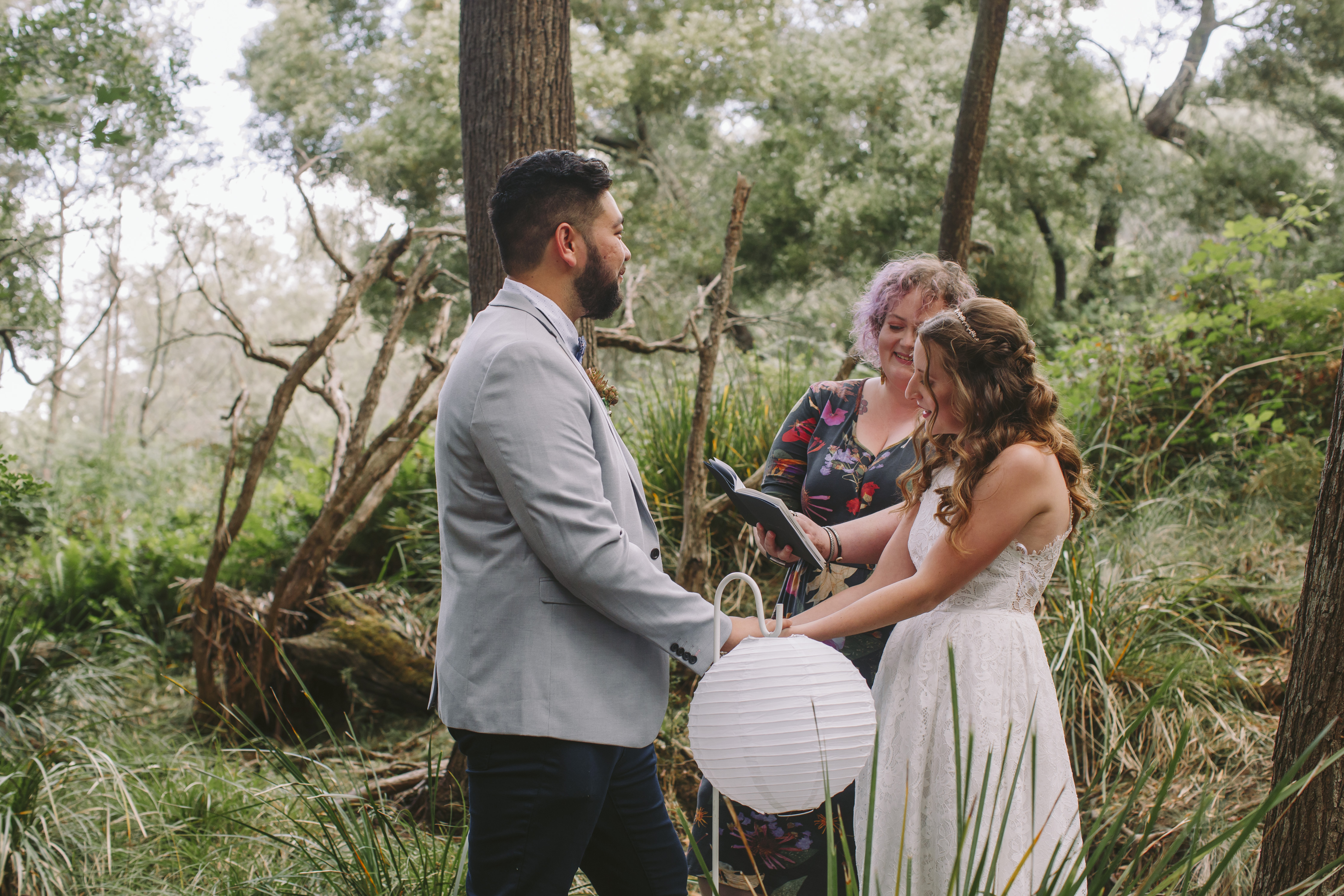 Mem!
YOU ARE AMAZING!
Thank you so much for attending our farm wedding in Buckland! You made everyone feel so welcomed and relaxed. Our ceremony in the little fairy creek bed was the highlight of many of our guest.
I hope your career as a celebrant grows at a rapid rate because you my friend are fantastic at your job!
Highly highly recommend Mem!
Caitlin + Dylan, January 2020
Mem was an amazing celebrant for our wedding, and an absolute hit with all of our guests! She is a great story teller, and our 'love story' for the ceremony was perfectly crafted. We really felt like she understood and got us and what we wanted on the day – the ceremony was fun (Mem is hilarious) and enjoyable for everyone, whilst still being heartfelt and sincere. Our guests (and us) are still raving about it.
We laughed, we had tears, we kissed at the end and were legally married.
Ally + Andy, February 2021
These last ones feel like cheating because these people knew me long before I married them, but I love them even more for still gassing me up.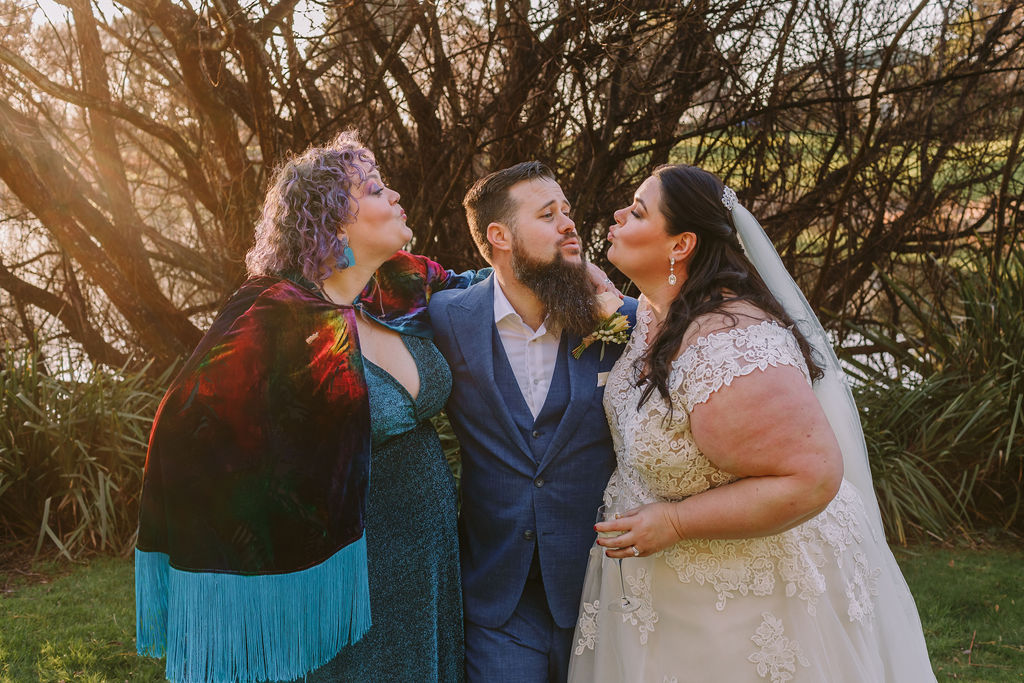 It seems biased to give your friend a 5 star rating but HEAR US OUT.
As soon as Mem announced she was studying to become a celebrant, we couldn't imagine wanting to ever be married by anyone else. She is a gorgeous, colourful, hilarious wordsmith who we just knew would bring her whole beautiful self to the job.
Fast forward to our engagement and the one thing we knew about how our wedding would take shape was that Mem would be our celebrant. That thing remained constant through different iterations of planning. Even when the pandemic hit and it meant waiting until borders were open for us to get married by Mem, we stuck to our guns, and boy are we glad we did.
We (finally, a year later than initially planned) got married by Mem this week. We decided to have our ceremony just the two of us, with our photographers doubling as our witnesses. Mem was there for us on the day to make sure things ran smoothly and to help settle our nerves. She knew exactly how to tailor the ceremony to make sure it was intimate and personal but also made us feel surrounded by love. We absolutely could not have asked for more.
If you want a celebrant who will make you laugh, make you cry, keep you calm when you need it and hype you up when it's time, all while looking bloody fabulous, then look no further.
Thank you Mem. Recommend forever.
Bri + Robbie, March 2021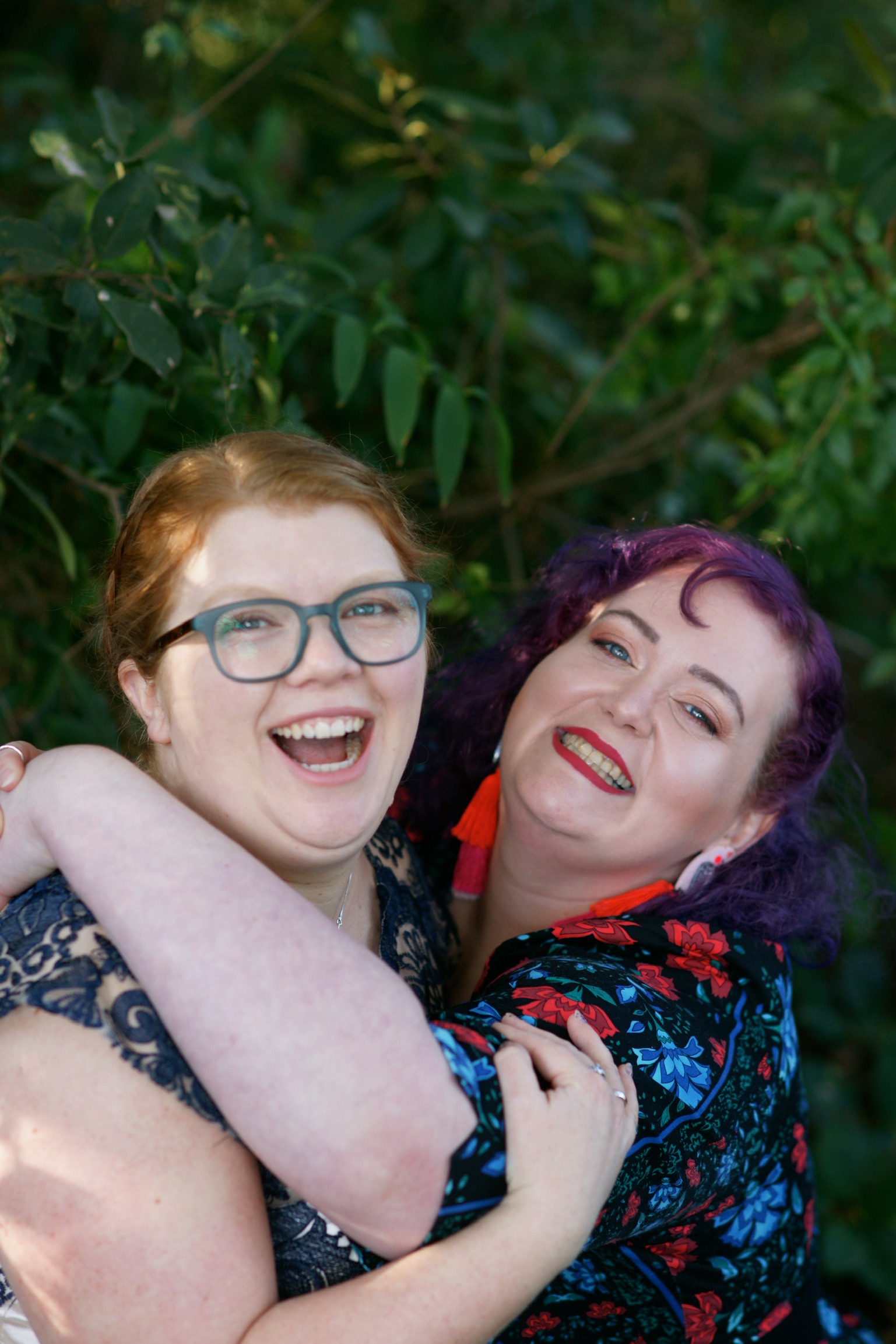 Mem married us on a perfect winter day after what felt like years of delays (thanks pandemic). We cannot imagine our day without her, from calmly supporting us in the lead up, answering all my anxious bride questions and being our rock Mem went above and beyond to make sure we were able to enjoy our day.
Our wedding was a mix of traditional and new and Mem just got it. Her script, what can I say. Absolutely incredible. From the get go our entire tribe felt loved and included, she made us laugh, cry and cheer, it was so joyful.
We would change absolutely nothing and could not recommend Mem more highly.
Saskia + James, August 2022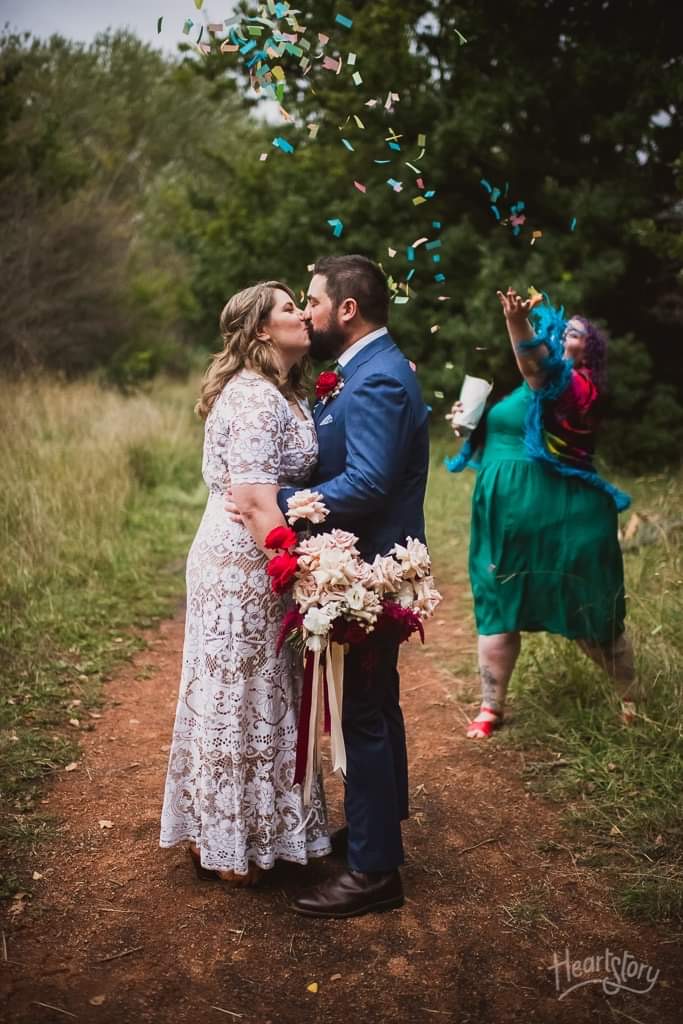 As soon as we decided to get married, we knew we wanted Mem to be our celebrant (full disclosure, she is one of my oldest friends). Even though we were her first wedding, Mem was calm, patient and extremely knowledgeable throughout the entire process. She answered even our most ridiculous questions immediately and with confidence. She held our hands through the ceremony-writing process and helped us put together a ceremony that was uniquely us. Nothing was too silly – Mem was up for anything.
On the day of our wedding, Mem brought all of the things we love about her to our wedding ceremony in spades. She was hilarious, enthusiastic, charming, charismatic and absolutely gorgeous. Every single wedding guest came up to me at the reception and told me how much they'd enjoyed our ceremony. Mem was so practiced and confident that no one could believe it was her first wedding. She was also a wonderfully calming presence when my groom was writing his vows in the taxi on the way to the ceremony!
Mem is wonderfully warm and hilarious, and her gorgeous personality shines through always. She will make your special day even more special, and she will make sure it is special in a way that is unique to you.
Han + Sam, July 2019
"No shade on anyone, other celebrants are beautiful chestnut ponies… Mem is a unicorn."
– Fred of Fred and Hannah
"Not only did we absolutely love everything you said and did but we had almost everyone in attendance tell us how amazing you were and we couldn't have agreed more.
We knew we'd have a great day but couldn't have expected just how special and tailored everything you did was. We will be forever grateful in a way that I don't think we can truly summarise in an email."
– Dylan + Hilary, April 2021
"I have never laughed so much during a wedding ceremony and maybe a little bit of crying."
"In the months leading up to the day she was professional, accommodating and very reassuring. Then came her ceremony. WOW. Had our guests laughing, crying, and had more than one of them saying "best celebrant ever". If you are looking for someone special, look no further, Mem is the one for you."
Thank you so much Mem you honestly set the tone for the day. You were hilarious and so genuine we LOVED IT. 💛🌱
"OMG Mem is amazing! What a wonderful ceremony she built for us. She wove all our titbits into a beautiful love story!"