How does this whole celebrant thing happen?
First, if you like it, discuss putting a ring on it. No surprise weddings—I wanna hang out with the both of you.
Our first meeting (over coffee, or gin, or FaceTime, or Google Meet) is at no cost to you (aside from your beverage or internet connection)!
As mentioned in my About Mem, it's important that we all get along, so let's keep things casual on our first date. Please get in touch at least one calendar month before you wanna get hitched—this bit is super important, unless you have some pretty special circumstances (I can tell you more about those if you think that's you).
If you're picking up what I'm putting down, you'll lock in your wedding date with a non-refundable booking fee of $200—apart from me clearing my schedule for your ceremony, the booking fee helps me get your paperwork underway, including the lodgement of your Notice of Intended Marriage (NOIM). I don't take "deposits"—this fee is separate to my ceremony fee.
My ceremony fee (including optional extras) is payable at least two weeks prior to your ✨future anniversary✨ date, though early payment is never scorned. I'm a nerd for budgeting and weddings can be expensive once everything's considered, so it can help to pay things off in bite-sized pieces! 
Get in touch with some basic details on your dream ceremony, and I'll hit you back promptly with some suggested first date venues for us if you're locals, or some FaceTime or Google Meet details if you're interstate. Cute!
MARRY US, MEMILY: ~$800 (+$200 bf)
Here's what's included when you purchase a Marry Me, Memily showbag:
a super-personalised ceremony script written for you, by me, talking about YOU TWO and NO BS—I tailor things from top to bottom to suit your day and incorporate any loved ones you want to be a part of the ✨magic✨
speaking of loved ones: guest numbers anywhere from 2 to 200*, as long as it's COVID-safe
at least a couple of catch-ups for ceremony planning and chats—face to face if you're local, via FaceTime or Zoom if you're not
as many text messages, emails, and social media DMs as you see fit, featuring enthusiastic and informative responses, encouragement and pep talks (sometimes at strange hours, please do not judge this night owl)
my travel to your wedding/elopement location within a 50km round trip of West Hobart (aka my home!)
#1 pep-talker on the ground pre-ceremony: words of reassurance, soft-spoken encouragement so as not to spook you skittish ponies (I have yet to meet a single person who isn't a bit nervous just before go-time!), and more than likely gassing you up because you're gonna look ✨outstanding✨ and I just can't help myself
if required: use of my schmick-as BOSE PA system and Sennheiser microphone so everyone can hear us
if required: use of my Spotify Premium account for pre-ceremony playlist vibes, your chosen ceremony tunes, and during my pack down time while we're post-ceremony mingling and taking photos
THE MOST IMPORTANT BIT: your ceremony ringleader at work! Performing your ceremony, looking after the paperwork/legalities, getting you two hitched, and then schmoozing with you and your friends and family in the afterglow!
*You can have more than 200 guests if you really want, I just liked how "2 to 200" sounded.
Sideshow Alley...
Things that aren't part of my showbag but will still fit in the bag if you need them:
travel exceeding a 50km round trip from West Hobart:

I genuinely love a road trip but it takes some extra travel time and planning for me to get there—I charge 0.72/km(ish) outside my travel bubble, and will likely need to also request accommodation (or add the cost of my own accommodation booking to my fees) if your venue's more than a 4hr round trip away from home for me, or your ceremony's a late one.

a rehearsal at the ceremony location:

I have another job that isn't weddings, so if you require my presence for your rehearsal I may need to take a day off work! In my history of ceremonies I have had no rehearsals. I value making moments over perfection, and I promise I'll be right there by your sides on the day, ringleading with love and care, letting you know where to stand and when to talk. I've got you.

emcee duties:

they don't call me the Memcee for nothin'. I actually cut my wedding industry teeth on emcee duties at multiple friends' weddings before realising things would be more fun if I did the work at the start of the party so I could just get loose on the d-floor with my fellow guests instead of stressing about which family member was giving the next speech and what time the next course was due out. Let me take on these duties for your poor friend. I got the party started, why not let me continue to drive this thing?

a copy of your official marriage certificate from the Registry of Births, Deaths and Marriages:

you receive a fancy marriage certificate on the day of your wedding, but a lot of places won't accept this if you're doing any name-changing. It's 2022, a lot of people choose not to change their names these days! But if you would like to do so, or you'd just like a copy of the BDM certificate for posterity's sake as soon as it's available, I can order one for you when I'm registering your marriage details post-ceremony. Otherwise you can grab one from BDM Tasmania (or your relevant state BDM if I'm travelling for you) at literally any point in the future!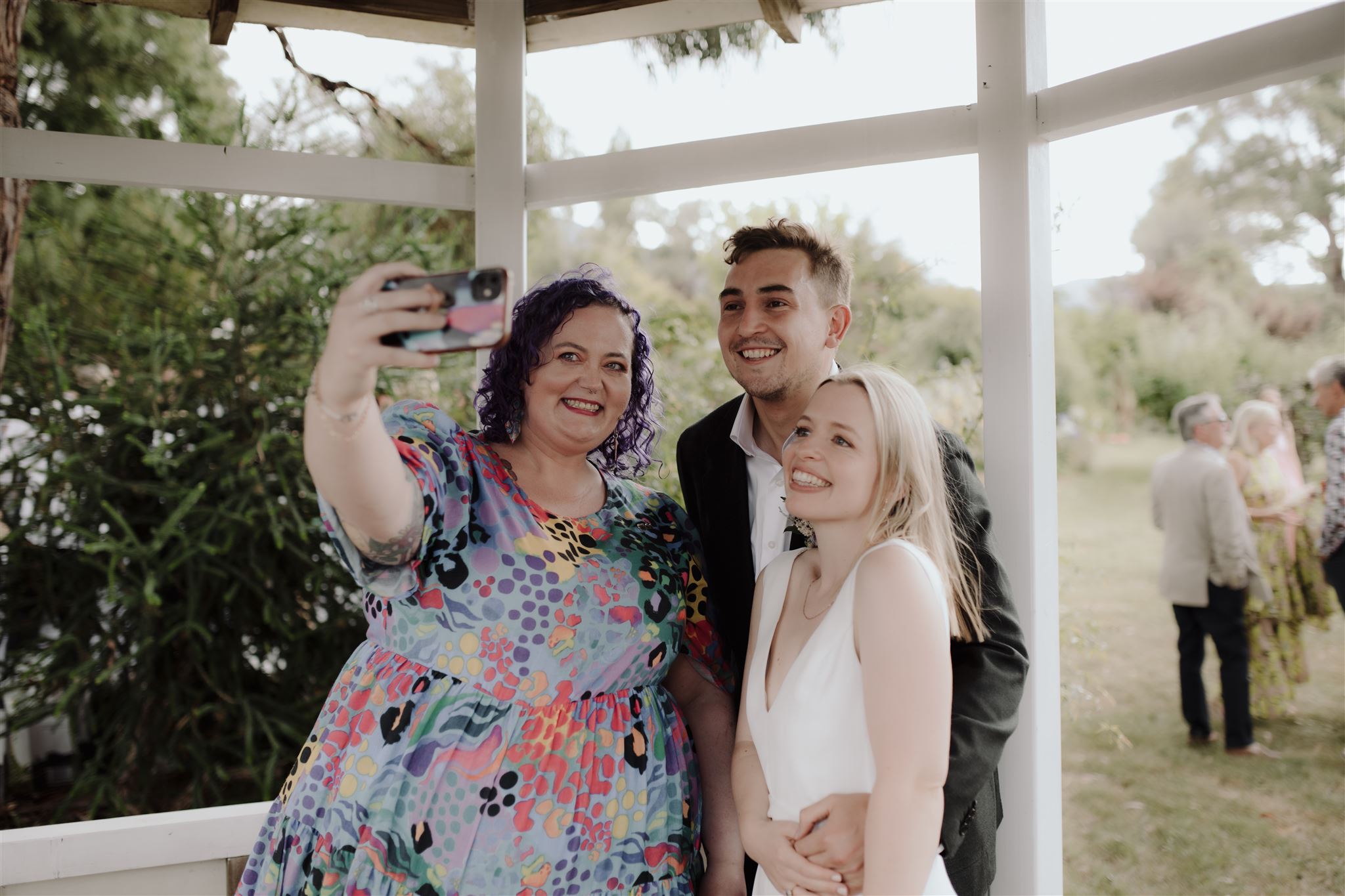 We are so glad we found Mem! Where to start! We couldn't have hoped for a ceremony more us. Mem was just perfectly awesome! The heart and warmth that she brought, the energy to make it fun and engaging for everyone, and her care to tell our story and involve all our loved ones in the moment made it authentic and wonderful.
It was magical to watch! Thank you so much Mem for being part of a perfect start to our married lives ❤️ 👯
Alex + Harley, April 2022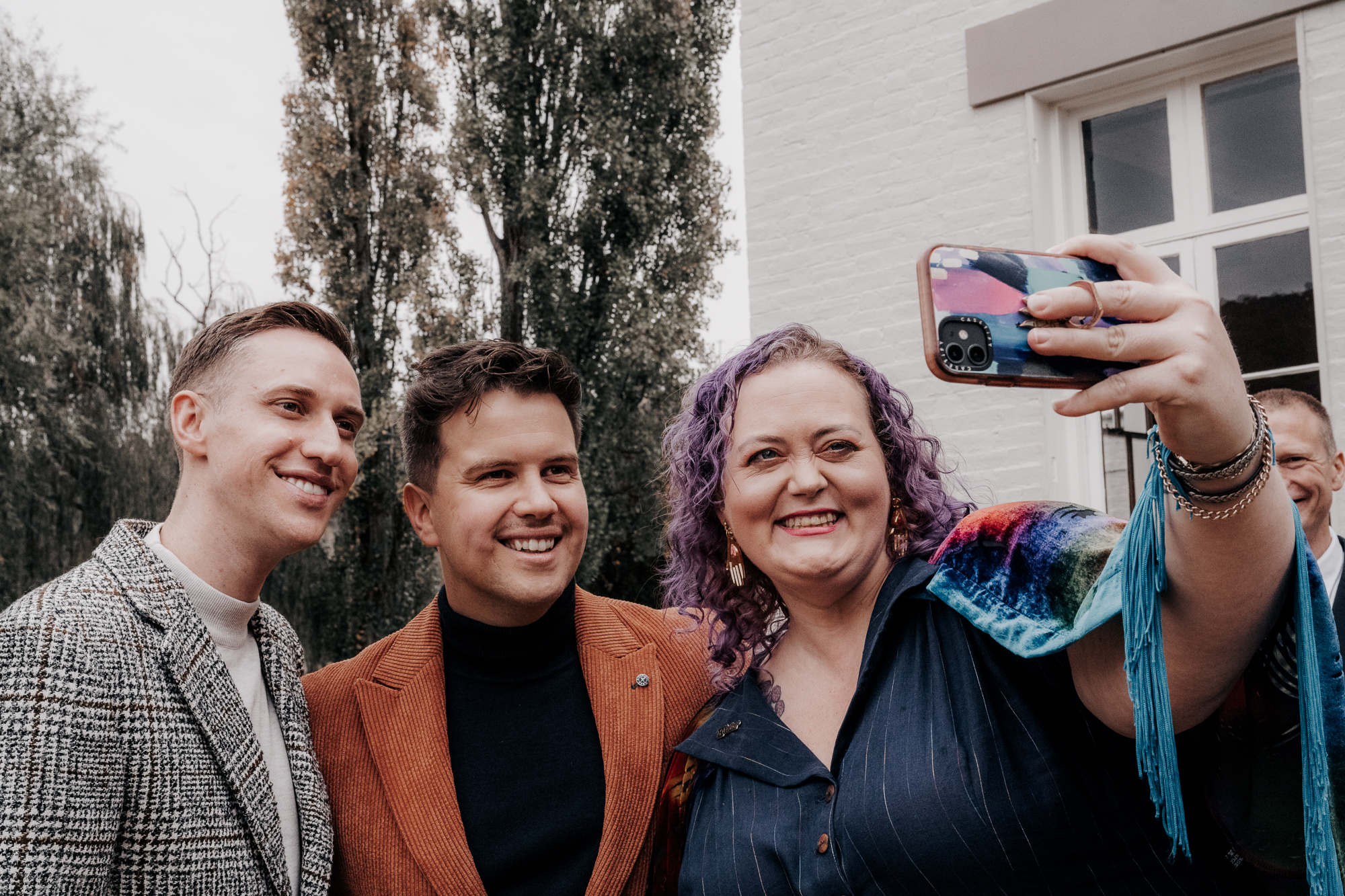 Fun fact: Tasmania is the only state in Australia where you can't book in with the State Registry of Births, Deaths and Marriages for a quick and simple ceremony—or even just completing the legal paperwork. The Registry Office down here just… doesn't offer it! No big deal. Good for me, though, because it means that every single legal marriage in Tasmania has to be arranged by a religious or civil celebrant! It makes things a bit weird if you just want to walk into an office, sign a piece of paper, and walk back out married—but I have plenty of friends with offices if you want to get serious about it. If not, the world (or at least the state of Tasmania) is your oyster. Quick and simple ceremonies mean quick and simple fees, too.
BAR-SIDE LEGALITIES: ~$300 (+$200 bf)
You don't want to do the wedding dance. There will be no white dresses or suits. I will be choosing comfort over ab fab and there will be no ceremony photos because there will be no ceremony! We're literally just doing the paperwork here, and we're doing it at some cute little cafe or restaurant over a coffee or something stronger.
Available most evenings—over a cocktail before you go out to dinner to celebrate?
Do you live interstate (we Tasmanians refer to it as the mainland or the big island, I am not joking) but you're eloping to Tasmania? Heck yes. I support this idea so hard! We can organise everything from interstate and I'll be here waiting to legalise once you touch down.
I've got recommendations for just about everything Tasmanian (check out my Friendors page), and can even provide a couple of my friends as your legal witnesses if you're going full classic elopement with just the two of you. It's 2022, baby—anything goes. (Even global pandemics, I guess… though I did recently remove "or overseas" from my first sentence of this paragraph. 😢)
You may not think much needs to be said for an elopement, but some of my favourite moments have been those shared alone on a rock with two people in love. It's not weird. Don't think for a second that you don't deserve the whole shebang, baby. And if you don't believe me, check out the two lovely reviews below, both from eloping couples.
Get in touch. Go on. Let's chat running away together. Let's chat marriage. I'm all in. Are you?
Mem, you beautiful soul! Mem married us when we eloped in March and we could not have picked a better human to do the job. We knew from the first glance at her website Mem was our kind of human; she's a genuine LGBT+ ally, a little bit sassy, and also loves a bit of pineapple on pizza. We first met Mem in person the morning of our wedding but it felt like catching up with an old friend, she was so warm and friendly and a great hug-giver. Our ceremony was perfect, it encompassed everything we love about us and was such a beautiful (and fun) way to start our marriage. Mem genuinely cared about us and our day and did it with confidence and charm.
Thank you for making our special day special, we're forever grateful for you x
Lizzie + Ames, March 2020
​
Mem was such an amazing celebrant and was the perfect fit for us. I was getting very anxious looking for a celebrant for ou
​​
r elopement, until I stumbled across Mem's really awesome website, and knew she was the one for us. Our nerves were immediately put at ease. Mem was bright, encouraging and so very helpful – she really did go above and beyond what I expected from a celebrant. Our ceremony was perfect: being an elopement I wasn't quite sure we would say much beyond "I do", but it was tailored to us and I giggled throughout the ceremony. I am so grateful to have found someone who genuinely loves what they do, and who shares their uniqueness so boldly, to marry us.
I cannot recommend her highly enough. Thank you Mem! ️
Zoe + Logan, March 2021